This article is part of our DraftKings College Football series.
CFB DFS: DraftKings Week 1 Main Slate Breakdown
Week Zero was a great start to the season, but let's not kid ourselves. The season really started in earnest Thursday night and now we're getting ready to officially kick things off with a full college football slate on Saturday. DraftKings is rolling out a 14-gamer to celebrate Week 1 being here, and there are tons of great offenses in great setups. Don't be fooled, though. A lot of the offenses with implied totals north of 40 points will get to that figure with some players that are far from household names. Rarely do the stars on the best teams play a full game in Week 1 if they're facing a soft matchup.
Slate Overview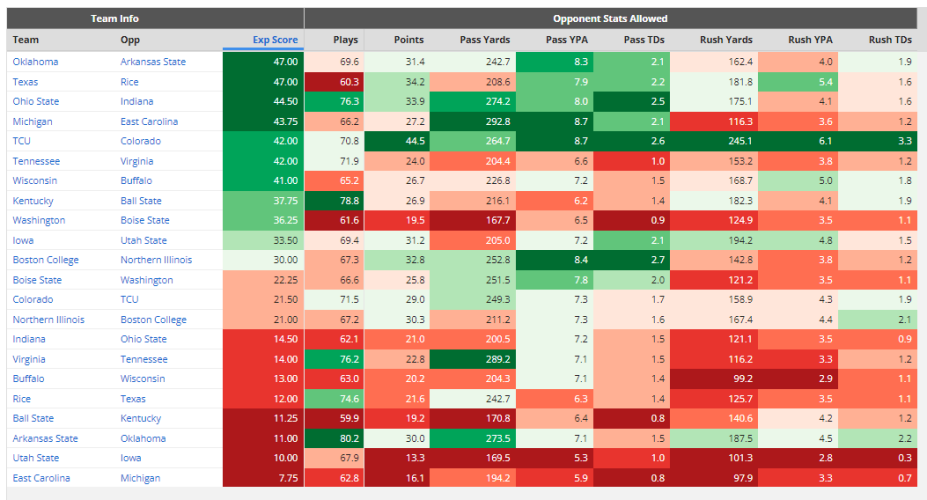 Week 1 is always a challenge for game selection as so many of the premier offenses we'll be riding with all season are playing a cupcake. There are just two games on the slate with a spread under 20.5 points, so we're just going to have to steer into the skid and hope our picks stay in the game long enough to return value.
Michigan and Oklahoma, at 36-point favorites apiece, are the biggest favorites on the board. I'd be comfortable using either J.J. McCarthy or Dillon Gabriel, but stacking them could be dubious given the murky pecking orders of those receiver rooms (especially Michigan). Texas, Tennessee, Wisconsin and Kentucky are all also ticketed for easy wins on paper, and I'll describe some ways we can get exposure to those offenses in the player breakdown section.
TCU might be the key to this slate. The Frogs lost a lot off of last year's National Championship Finalist team but there's still a lot of talent on this roster. It also helps that Colorado has essentially no continuity with so much transfer portal activity. Getting the right pieces of the Frog offense could be critical.
Not to be slept on, I think Kentucky and Boston College both present interesting paths for differentiating your lineups from the field. Both have healthy implied totals and are facing soft defenses. The premier skill options from either offense are affordable, and it wouldn't shock me to see Devin Leary ($8,100) and Emmett Morehead ($7,500) end up with low roster percentage figures based on their price versus some of the other premium QB options.
CFB DFS Tools
CFB DFS Picks: Quarterback
Joe Milton ($8,700) Tennessee

vs. Virginia

We have to be careful with some of our high-dollar selections this week with so many expected blowouts on this slate. While teams like Michigan, Oklahoma and Texas are playing some of the dregs of the G5, Tennessee checks in as a 28-point favorite against a Power 5 opponent. This is anecdotal, but I think Tennessee views this game as an opportunity to make a statement and bank a decisive victory against a P5 opponent. Think of it as resume-building, even if crushing Virginia this week is an afterthought when the CFP committee meets in November.
With the preamble out of the way, let's get down to brass tacks. I don't see this Tennessee offense falling off without Hendon Hooker, and Milton showed in the Orange Bowl against Clemson that he's more than capable of running this system effectively.
Milton orchestrated a 10:0 TD:INT ratio with an 11.8 YPA in a small (82 attempt) sample last season, including throwing for 251 yards and three scores on Clemson while working with receivers that are back in the fold this fall.
Virginia had a decent pass defense last season (6.6 YPA allowed) but it's going to have a long afternoon Saturday. Look for Milton and Tennessee to be aggressive and take shots deep down the field Saturday and with this being a Power 5 opponent, there's a chance the Vols look to run up the score a bit and keep the starters in until late, which opens the door for more pass attempt volume from Milton compared to some of the other star QBs on the slate that may be done for the day by the time the third quarter starts.
For what it's worth, Squirrel White ($5,500) and Bru McCoy ($4,800) are the headliners of this receiving corps and their salaries are likely the lowest that we'll see all season.
Chandler Morris ($6,900) TCU

vs. Colorado
I'm of the belief that Colorado is going to be an abject disaster this season, and catching a TCU team looking to get the bad taste out of its mouth from the National Championship game is tough luck for the Buffs. And it's on the road.
The Morris-led Frogs have an implied total of 42.0, which is among the highest on the slate. Not unlike the angle from the Milton/Tennessee play, I think TCU is ready to make a statement that last year was no fluke. Colorado has more than 50 new players on the roster via the recruiting cycle and transfer portal, and this is also Deion Sanders' first go as a coach at this level. No continuity, suspect depth and new systems to run is a recipe for disaster this week and probably beyond.
Morris, who actually got the start against Colorado last season (people forget that) will face little resistance on Saturday. Even if he doesn't have to play the full game, 30 attempts with high efficiency should be more than enough to do the trick at $6,900.
Taylen Green ($6,800) Boise State

at Washington

I'm fading Washington a bit this year, and while I think the Huskies win this one rather comfortably on Saturday, Boise State will be pesky.
Green, for his own part, is a very intriguing talent. He threw for 2,042 yards on a 7.5 YPA mark last season while adding 586 rushing yards and 10 rushing scores on 81 attempts. Expect him to have a busy day both as a passer and as a runner. Washington has a lot of returning production on defense, to be fair, but it wasn't a great unit last year especially against the pass as it allowed nearly 8.0 yards per attempt.
In a catch-up script, Green should have plenty of opportunities to produce Saturday and if Washington takes its foot off the gas even a little bit, the Boise QB is a threat to break a long touchdown run to help carry us to a nice ROI.
Others to Consider
Michael Penix ($8,400 vs. Boise State) and Kyle McCord ($9,900 vs. Indiana)
Penix has the benefit of playing in what should be one of the slate's more competitive games, so while Bo Nix ($10,100) may be chilling on the sideline by the third quarter, Penix should have to play most of, if not all, this game against Boise. Washington had the sixth-highest pass rate in FBS last season and he clearly took to it well by having a career year. I wouldn't go overboard with him, though. Boise State had one of the best pass defenses in the country last season.
McCord is interesting because the cost may come across as prohibitive considering it's already been announced that Devin Brown will be getting some work. Still, this is about as QB-friendly of a system as we'll find in college football and the receivers are all future NFLers, so McCord gets to make his first start playing on easy mode. He'll need to be surgical to return value because the volume could be at 25 attempts or fewer. But when he's throwing to Marvin Harrison Jr. and Co., that's definitely in the realm of possibility. Like Penix, I wouldn't go too heavy on McCord this week. But as a GPP target, he could be well under 15 percent rostered with a chance to throw for 300 yards and multiple touchdowns before Ohio State calls off the dogs.
CFB DFS Picks: Running Back
Braelon Allen ($6,700) Wisconsin

vs. Buffalo

Braelon Allen under $7K against a MAC defense that gave up 5.0 YPC last season? This is either a gift or a trap, but I'll side with it being a gift. Sure, Wisconsin is going to throw more this season under Luke Fickell and Phil Longo, but it's still Wisconsin. The Badgers will run the ball, especially as four-touchdown favorites. If anything, having a credible threat through the air should make life even easier for Allen as he won't be flung into loaded boxes every time he gets the ball.
Allen is so important to the Badger offense that he may not be saddled with a crazy workload Saturday provided Wisconsin takes care of business as expected. So even if we're looking at something more like 15 carries as opposed to 25 when we get to conference play, that should be plenty. Allen has a career 6.0 YPC average over 416 rushes and has converted that into 23 rushing touchdowns as well. Heck, he might even have more target opportunities with the new offense, and we're all about targets when we're playing on DraftKings.
It's going to be hard to make a lineup I like this weekend that doesn't include Allen.
Quinshon Judkins ($6,600) Mississippi

vs. Mercer
If the Braelon Allen pricing raises your eyebrow, then Judkins' listing at $6,600 is downright suspect. We're essentially getting dared to play Judkins at this salary, and I say challenge accepted.
For my money, Judkins is the best running back in college football right now. His freshman year was remarkable and he will continue to be the engine for this offense. Now, some added context is necessary when considering him for this game. This will likely be his lowest carry count of the season. It would be close to a miracle if he got 15 touches. But against Mercer? Judkins will be unstoppable with any volume he receives. Again, there's some risk of him having a short day in terms of workload, but at $6,600 with his big-play potential, he's worth that risk.
Emani Bailey ($5,400) TCU

vs. Colorado
TCU might be more inclined to go with a committee approach in the backfield this year with Kendre Miller gone, but Bailey still has a good chance to be first in line for carries. The Horned Frogs added Trey Sanders from Alabama this offseason and the likes of Corey Wren and Trent Battle are still waiting in the wings, too.
Here's the thing, I'm not convinced that Trey Sanders is good enough to take over the backfield. He's fine, but Bailey has sustained a 6.7 YPC mark over 143 career rushes and has an 8-TD season under his belt from his time at Louisiana.
So, we like Bailey's workload projection at the price, and the matchup is what helps make him a notable target for this slate. Colorado was abysmal against the run last season, allowing 245.1 yards per game, 6.1 YPC and 3.3 rushing touchdowns per game. Maybe it can't get any worse, but how much better is it going to look in the first game of the season against a ranked opponent? TCU will gash Colorado anytime it opts to run and with Bailey leading the way, he's a great mid-tier option this week.
CFB DFS GPP Picks: Running Back
Tawee Walker ($3,700) Oklahoma

vs. Arkansas State

The JUCO transfer finds himself listed as a co-starter for Saturday's game against Arkansas State. Walker's sample from last season doesn't give us much of a clue -- he had just 18 carries for 62 yards -- but the fact that he earned this spot out of camp is telling. Marcus Major will likely see the most carries through the first half, but Walker should be primed to see plenty of volume in a blowout script where OU leans on the ground game late.
The Sooners have the highest implied total on the slate (47.0) and should be able to score at will. How deep the Sooners opt to go into their bench will dictate Walker's output, but as it stands, he's in line for a solid workload in an offense that is going to be lighting up the scoreboard. At $3,700, I'll take that salary relief and hope for ~15 fantasy points.
CJ Baxter (Cedric Baxter on DK) ($5,500) Texas

vs. Rice

Baxter was one of just two consensus five-star running backs in this recruiting cycle and with Bijan Robinson and Roschon Johnson off to the NFL, there are a lot of carries up for negotiation out of the Texas backfield.
The expectation is that Baxter and Jonathon Brooks will be the top two backs to start the season. With a likely blowout on tap, the ground game will be featured for a lot of the second half and Baxter should have a claim to ~20% of Texas' carries. Rice allowed over 180 rushing yards per game on 5.4 YPC last season, so a talent like Baxter should have little trouble finding room to operate Saturday.
CFB DFS Picks: Wide Receiver
Marvin Harrison Jr. ($9,100) Ohio State

at Indiana

$9,100 is a lot to pay up for a receiver. We know that Harrison isn't just any receiver, though. He's the best one in college football. If anything, Harrison being nearly $1,000 higher than the next priciest WR on the board this week helps matters for DFS. Many will be turned off by the price tag and
I don't need to sell you on Harrison being a good player. I need to sell you on him being a good play this week and even if he's not out there for all 60 minutes, he's going to turn his opportunities into explosive production. With what should be a lower roster percentage figure than usual, Harrison stands out as someone to build around even in tournaments.
Ryan O'Keefe ($6,100) Boston College

vs. Northern Illinois

Boston College has to replace 30 percent of its target distribution from last year with Zay Flowers gone, and it brought in Ryan O'Keefe this offseason to help to that end. O'Keefe is no stranger to regular DFS players after banking back-to-back 70+ catch seasons at UCF. Now he heads to a BC offense that may not have a great passing game setup, but it's fair to expect that O'Keefe will work as the No.1 target for the Eagles. And, counter to many people's perception about BC, the Eagles actually throw more than they run. So the target volume could creep past 10 for O'Keefe if BC is unable to pull away early.
As for the matchup, NIU allowed 8.4 YPA through the air last year and was stingy against the run, so passing early and often will likely be the plan of attack for BC here. It also helps that BC is just a 9-point favorite, so the starters should be involved all game.
Xavier Worthy ($6,600) and Adonai Mitchell ($5,500) Texas

vs. Rice

As we outlined in the CJ Baxter blurb, this game is going to be a blowout. That means we're operating with a thinner margin for error with the wideouts in this game. Even so, Texas is going to have some significant production through the air and its top two weapons are both reasonably priced.
Worthy is understandably the headliner and even though his efficiency waned last season, it later came out that he was playing most of the second half of the season with a broken hand. Now that he's fully healthy, it's all systems go. He'll see plenty of targets for as long as Texas is interested in throwing it, and I think Worthy will look much more like he did in 2021 when he scored 12 touchdowns on 62 receptions while sustaining a 9.4 YPT mark.
Mitchell is more of a wildcard but is still expected to be a starter. He generated rave reviews throughout fall camp and though he has just 71 career targets thus far, Mitchell has been solid over that sample. It would not be surprising for Mitchell to surpass that career target count by November, and that mission starts Saturday. He might only have 3-4 catches, but if they go for big gains and maybe a touchdown, a 3x return is in play.
For the sickos out there, Jordan Whittington ($4,700) is always efficient and Isaiah Neyor ($3,400) was one of the best deep threats in college football last time we saw him at Wyoming before an ACL wiped out his 2022.
Barion Brown ($5,500) Kentucky

vs. Ball State

Brown is one of the most underrated receivers in the SEC and is primed for a huge year. The addition of Devin Leary will give Kentucky a steady and experienced presence at quarterback, the offensive line almost categorically has to improve, and Liam Coen is back from his one-year sabbatical trying to coach the 2022 Los Angeles Rams.
Brown already led the team in targets last year (24%) and I think his 7.6 YPT mark is set to skyrocket closer to 9.0 or better.
Kentucky is a big favorite, but there's also some underlying pressure to show proof of concept that the offense is ready to bounce back after a dreadful 2022. With Leary being showcased, there should be enough passing volume to go around Saturday and Brown will be featured heavily against a defense that likely doesn't have an answer for him.
If you're looking for additional exposure to the Kentucky passing game, or a pivot off of Brown, Dane Key ($5,200) is a name to keep in mind. He is also a highly talented sophomore who was explosive in 2022 with a 9.1 YPT figure on 57 targets.
CFB DFS GPP Picks: Wide Receiver
Corey Rucker ($4,900) Arkansas State at Oklahoma
Make no mistake, Arkansas State should get crushed on Saturday. Should. Even so, we should be looking at 40+ pass attempts from this offense and Rucker should have a claim to ~20 percent of those. Rucker is back from a forgettable season at South Carolina and is in line to reclaim his spot as Arkansas State's top receiving threat.
In 2021, Rucker produced 826 yards and nine touchdowns on 107 targets. That's a strong effort right there, and even if the efficiency isn't all the way there on Saturday, he should be busy nonetheless.
$4,900 is a little pricier than I'd like to pay for a piece of this offense, but maybe that can work to our advantage as many drafters will likely scroll past him when looking for cheaper viable options.
Andrel Anthony ($4,800) Oklahoma vs. Arkansas State
Anthony has had a strange career to this point. He torched Michigan State for 155 yards and two scores as a freshman at Michigan in 2021 and then disappeared from the offense almost completely for the rest of his time in Ann Arbor.
He gets a fresh start in a more WR-friendly offense and is listed as a starter for this week. $7,500 is too much to sink into Jalil Farooq in my opinion, but $4,800 for a prominent piece of this offense is much more palatable.
The author(s) of this article may play in daily fantasy contests including – but not limited to – games that they have provided recommendations or advice on in this article. In the course of playing in these games using their personal accounts, it's possible that they will use players in their lineups or other strategies that differ from the recommendations they have provided above. The recommendations in this article do not necessarily reflect the views of RotoWire. John McKechnie plays in daily fantasy contests using the following accounts: Fanduel: mckech3; DraftKings: mckech3.