This article is part of our Sorare series.
Sorare continues to see a steady increase in users, which has prompted many people not currently on the platform to ask how to play the fantasy soccer game and how to make money from it. While "How do you make money on Sorare?" seems like a simple question, it prompts both an easy answer and a more complicated one.
Fundamentally, there are two ways to earn money on Sorare:
Finish in a certain spot in any of Sorare's bi-weekly tournaments
Sell cards you either bought or won
I wrote previously about the basics of Sorare, which I advise checking out before continuing because it will help explain how you initially acquire cards and use them to hopefully win prizes: additional cards or Ethereum, which is currently the currency of Sorare.
With online sports betting live in Massachusetts in early March, sports bettors in the Bay State are able to wager on their own mobile devices. The best part about signing up for new accounts means you can take advantage of welcome bonuses to help aid your start in online wagering.
New players can claim a variety of Massachusetts sports betting promos right away across a half-dozen sportsbooks that can result in a few thousand dollars worth of welcome offers.
One example is at BetMGM Massachusetts, which offers a generous welcome bonus for new players when they redeem the BetMGM Massachusetts bonus code. This offer gave sports bettors $200 in bonus bets before launch, and now gives bettors a first bet offer worth up to $1,000 since sports betting has gone live in the state.
Bettors in Massachusetts can also use the Caesars Sportsbook Massachusetts promo code and claim a first bet on Caesars, worth up to $1,500. This is the best offer for sports bettors in the Bay State, as Caesars Massachusetts looks to start its business in New England with a bang.
There are two ways to earn ETH from tournaments on Sorare: finish with more than 205 or 250 points in their Global All-Star Division 4 (ASD4) tournament, or finish in the top three spots in any other contest. Having a team score more than 205 fantasy points in ASD4 pays 0.01 ETH, while scoring more than 250 pays 0.02 ETH, which equates to roughly $32 and $65, respectively (as of Aug. 25, 2021). Because the value of ETH to U.S. dollars changes constantly, the value of those ETH prizes in FIAT change as well, but that's what we're earning now. For full disclosure: Sorare has announced that they will be replacing these ETH thresholds with different monetary payouts in the future but the details of those plans have not been released.
A good number of Sorare managers only buy enough cards to compete for these ASD4 205/250 ETH thresholds, and the consistent monetary payouts make it easier to account for when you (hopefully) become net positive. For example, if you spend $1,000 to make a five-card team for ASD4, you will have to score more than 250 points roughly 17 times before you've earned back your initial investment (1,000 divided by 60 = 16.67) or 34 times if you only score 205. As a reminder, Sorare offers the ASD4 contest twice per week, so you could theoretically make your money back in only a few months. Granted, most teams don't play midweek matches, so you're more likely only hitting 205 or 250 each weekend, which obviously extends the timeline for profitability.
In addition to the ASD4 ETH payouts, Sorare rewards the top three finishers in all their other tournaments (such as Champion Europe D4, Challenger Europe D3, Champion America D2 and Champion Asia D1) with ETH rewards. For example, Gameweek 196 will pay 0.650 ETH to first place in ASD4 (which equates to roughly $2,100), 0.400 ETH ($1,300) to second place and 0.250 ETH ($812) to third. These ETH payouts are in addition to the card rewards, which many more managers win.
Speaking of card rewards, this is the other money-making part of Sorare. While only the ASD4 has the ETH thresholds, there are usually dozens or hundreds of cards paid out as prizes in the other tournaments. The value of each card is determined before the contest is run, and those who finish higher in the standings will win the better cards in the prize pool.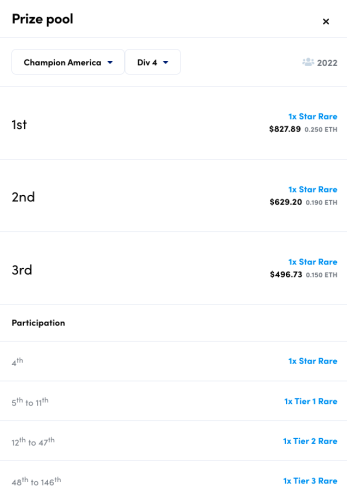 The chart to the left shows all prizes in Gameweek 194's Champion America Division 4, which paid out to the top 146 places among the 2,022 entries. As you can see, the top four finishers earned a "Star" rare card, which came from a group of players that included Carlos Vela and Josef Martinez, while the Tier 1 pool included Gustavo Bou, Diego Rossi and Jack Price, Tier 2 had Albert Rusnak and Jesus Medina, and Tier 3 some high-profile names like Darlington Nagbe, Ryan Hollingshead and Thomas McNamara. Needless to say, finishing higher is better.
Winning cards allows you to do one of two things: keep the card and (usually) play it in future Sorare tournaments or sell the card on the secondary market, with the latter option considered contest winnings to help calculate your overall ROI. Even better, you can snowball rewards by winning better cards and earning future rewards using cards you didn't have to acquire through an auction or secondary market. Here's an example of what I mean:
I finished 69th overall in ASD4 in Gameweek 176 thanks to this lineup, which included four purchased cards and one free common card (screenshot courtesy of the SorareData My SO5 Results page):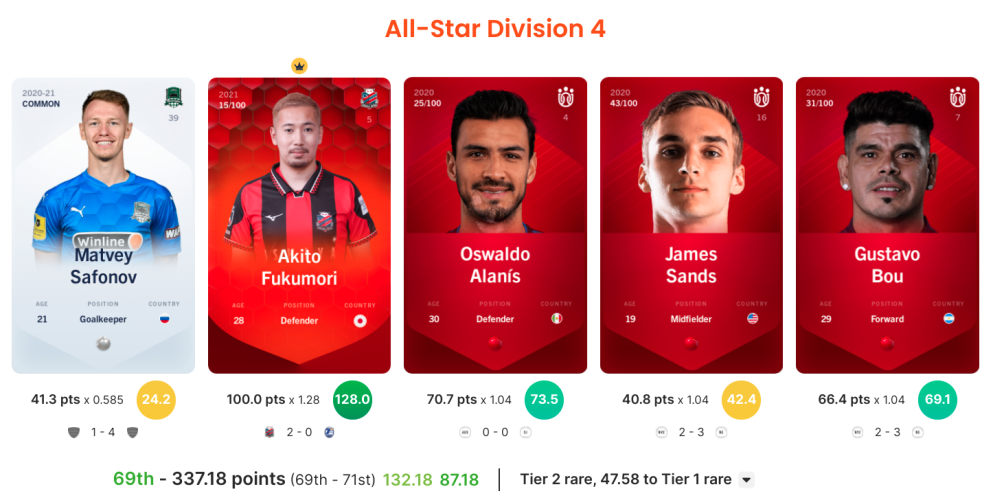 It was nothing spectacular, but it allowed me to win 0.02 ETH because I scored more than 250 points, and I won the Jonathan Mensah 15/100 rare card, which was worth roughly 0.06 ETH (around $120) based on a secondary market sale on the date I received the card (June 23, 2021). Because I was now the owner of that Mensah card, I had the ability to immediately list it on the secondary market, keep it and potentially sell it later, or use it in future contests.
Skipping ahead two gameweeks, I finished eighth overall in Champion America D3 with a lineup of five cards I either won at auction or bought on the secondary market, including two super rare cards: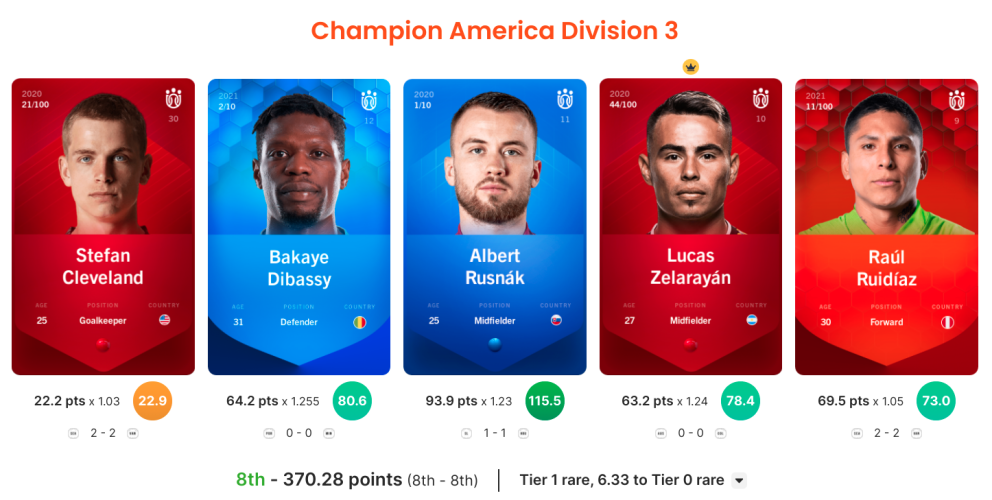 My finishing position in that tournament did not pay out any ETH, but I did win the Kacper Przybylko 24/100 rare card, which admittedly was a bit disappointing at the time because I had recently won the auction for the 4/100 rare card. I seriously considered selling my new Przybylko card because I already had one, but decided that the 0.165 ETH/$375 range was below where I thought he could be worth in the future, and so I held onto the card to use in future contests. Having two Przybylko cards sounds a bit excessive, but it made sense because I could play one in Champion America D4 or D3 and the other in Global All-Star D4 or D3.
My Sorare luck hit its peak in Gameweek 186 when I finished in first place in ASD4 thanks to a team that included both the Mensah and Przybylko cards that I had previously won plus three cards I had acquired through auctions and the secondary market: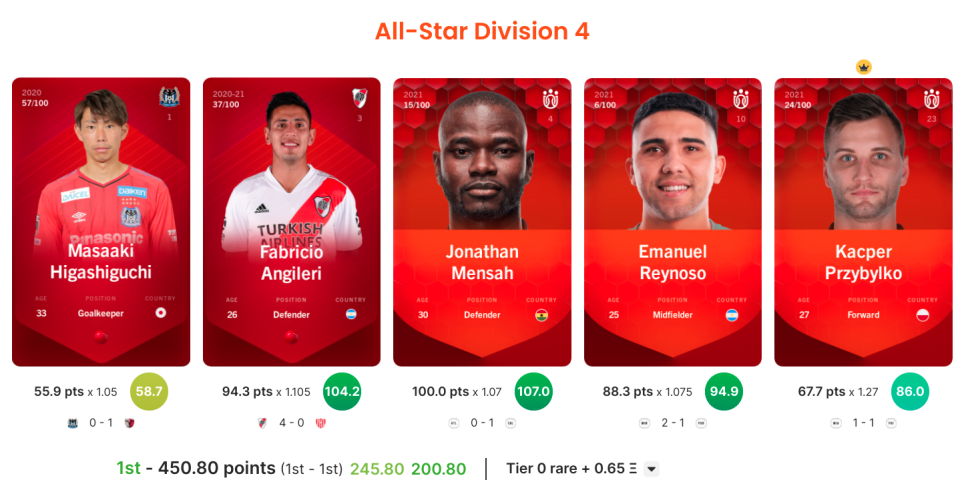 The prizes for winning that? 0.65 ETH, which currently equates to about $2,100, and the Carles Gil 40/100 rare card, which was valued around 0.60 ETH at the time. And while I could have immediately listed the Gil card on the secondary market, I decided to keep it to use in future contests. Like I said, Gameweek 186 was the peak of my Sorare luck, and I also won the Gabriel Arias 35/100 rare card with my Champion America D3 entry, which I also decided not to sell because I wanted to use it in future contests. For reference, a similar card sold on the secondary market for 0.487 ETH/$1,075 on the same day I received my reward.
One such future contest was ASD3 in Gameweek 188, when I used two of my prizes from Gameweek 186 to win an additional card, the Guilherme 7/100 rare card, worth roughly 0.366/$980 based on a secondary market sale on the day I won the reward.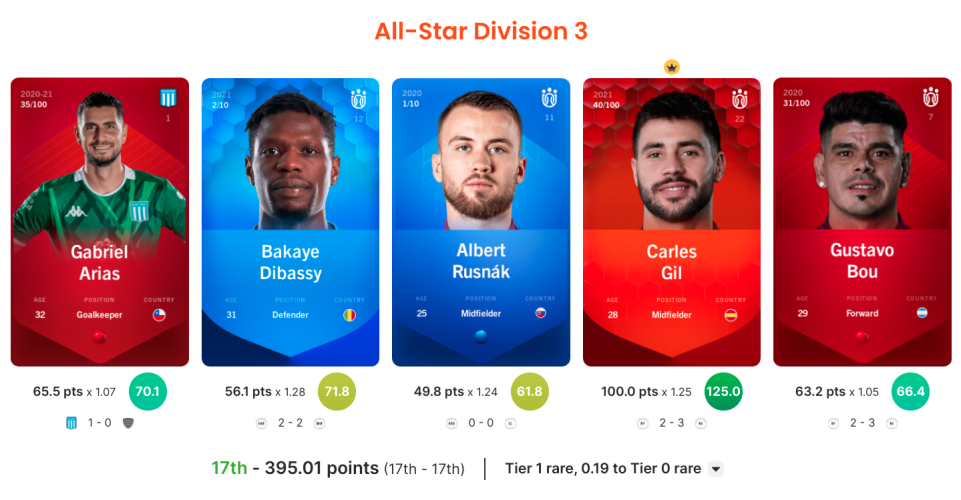 Because on the makeup of my gallery, I decided to sell the Guilherme card, though prices have moved in the wrong direction since I won the card on Aug. 4, 2021, as a similar card sold yesterday (Aug. 24) for 0.263 ETH/$846. That's still a decent price, but obviously waiting hurt me in terms of maximizing profit.
The reason for going through this exercise is because it helps explain why some people don't sell their rewards and withdraw from Sorare. Similar to many daily fantasy sports sites, managers on Sorare tend to roll their rewards into new contests, either by entering their newly won cards into future contests or by selling them and acquiring cards that could make their existing entries more competitive. This is fundamentally why the ROI question can get a bit tricky: should I consider my Kacper Przybylko or Carles Gil card wins as positive ROI even though I didn't sell them and withdraw from the site?
Incidentally, I ended up using the the Przybylko card I won in Gameweek 178 in a secondary market trade to acquire the Tyler Miller 44/100 rare card (I had to add some ETH because the Miller card was valued higher), which I had been trying to get to pair with my Bakaye Dibassy 2/10 super rare card. I bring this up because I then used the Miller card, along with an Emanuel Reynoso rare card I had purchased on the secondary market, to enter Gameweek 190's Champion America D3 with three cards I used in Gameweek 188 ASD3 (Gil suffered an injury, which is why I used Reynoso).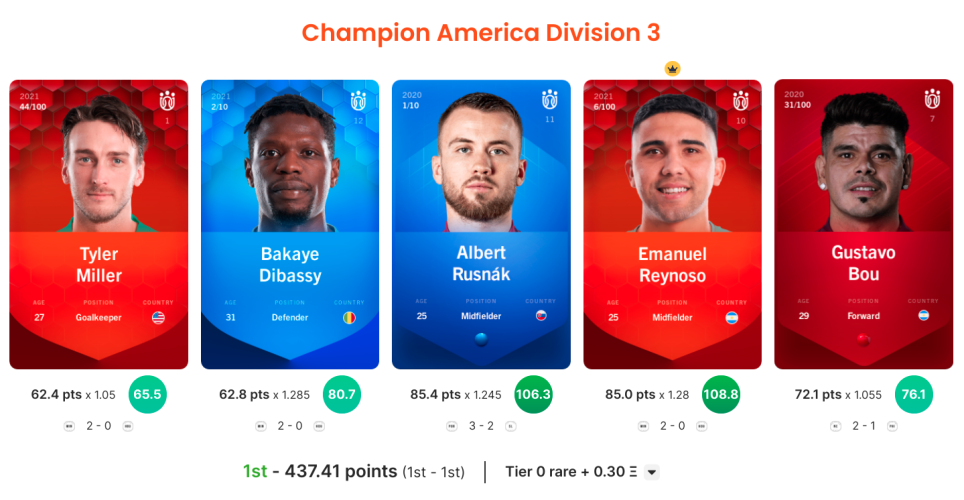 The lineup ended up finishing in first place, awarding me 0.30 ETH (worth roughly $975 today) and the Carlos Vela 41/100 rare card, which sold on the secondary market for 0.538 ETH/$1,669 on the same day I received my reward. Needless to say, you can get a pretty clear picture why many Sorare managers don't immediately post their cards on the secondary market after they win them.
The simple question of "how do I make money on Sorare?" comes with a bit of a complicated answer, mostly because so many managers on the platform decide to reinvest their rewards. There are always opportunities to sell cards and withdraw, but similar to many DFS players, using contest winnings to enhance your potential for future awards keeps them from doing so.
The author(s) of this article may play in daily fantasy contests including – but not limited to – games that they have provided recommendations or advice on in this article. In the course of playing in these games using their personal accounts, it's possible that they will use players in their lineups or other strategies that differ from the recommendations they have provided above. The recommendations in this article do not necessarily reflect the views of RotoWire. Andrew M. Laird plays in daily fantasy contests using the following accounts: FanDuel: kingmorland, DraftKings: andrewmlaird, Yahoo: Lairdinho.