What a difference 10 days can make.
Bobby Witt, the talk of the baseball world as I finally write this lede, was not drafted in the AL LABR salary cap draft back on March 7, 2021. He was not drafted in the reserve rounds.
That's 348 players rostered in the American League (12 managers, 29 total roster spots per team), and Witt was not among them.
The 20-year-old is now in the conversation to break camp with the Royals.
It's something that was borderline unthinkable just a couple weeks ago given his limited professional experience, although James Anderson was prescient in Witt's 2021 magazine outlook for RotoWire:
Despite having never played in a full-season league, Witt's performance at the Royals' alternate training site was promising enough that there is already speculation he could debut in his age-20/21 season.
Witt is a unique talent, and one in an unprecedented situation. We have no minor-league stats to gauge Witt's progress over the past year-plus, and it's difficult for many to draw that line and see that jump in competition as realistic for a kid that age. In my opinion, Witt is ready right now. Even if he does not begin the season on the big-league roster, Witt will be the first name to pop up among fans, reporters, teammates, etc. when there is an opening on the roster early in the season. I'm wishing I'd grabbed him over Wander Franco ($6) in AL LABR, and my rankings now reflect that desire. Witt crushed a 484-foot homer early in spring training, drew a 12-pitch walk after falling behind 0-2 against Julio Urias and later homered in that same game against Urias. His hands look lightning quick and I now see him as right behind Alex Kirilloff and Andrew Vaughn among the top stash candidates* to target as the margins among major-league players begin to thin out.
*You may not need to wait on either Kirilloff or Vaughn.
While I feel like Witt is maybe one that got away, I feel better knowing I'll still have a chance at him in FAAB, and I've already caught a huge break with Maikel Franco ($1) landing with the Orioles. On draft day, Franco was a free agent. After getting priced out on the likes of Jeimer Candelario and Isiah Kiner-Falefa, I had to get creative at third base. I got lucky and should be counting my blessings, as Franco for a buck in that park could be a real game-changer for my team. I'd expect Franco to go for $10-$15 if this were to be redone today.
My goal going into AL LABR was to build around Vladimir Guerrero on the hitting side and I ended up rostering him for the third straight year in this league, this time at $29. I recently did a short video with Alan Seslowsky for our Youtube channel; yet another platform for me to heap praise on Vladdy.
More so than anything, I wanted to be flexible. I was eyeing Aaron Civale as an SP2 or SP3. I also knew I wanted to stash a couple prospects. Having been scarred by Colton and the Wolfman, who won back-to-back championships in 2018 and 2019 with the help of upside prospects (Gleyber Torres and Bo Bichette), I've become convinced those needle-moving young bats are worth the wait in a league like this, even if it's somewhat uncomfortable waiting those players out with lackluster fill-ins.
When the draft started, Gerrit Cole settled at $40 to Jason Collette, which was a surprise to me. I know it was a surprise to Jason. Read his recap of this same draft here. I was hesitant to push Cole any higher and I projected that same hesitation onto the rest of the virtual draft room. So seeing what I viewed as a general hesitation at the very top, I decided to start pushing a little.
Knowing the limited supply of starting pitching in the AL and the salaries of Cole and Shane Bieber ($41), I decided to make an aggressive jump bid on Lucas Giolito. After I jumped him to $35...crickets. So I got him at $35, and while I could have perhaps saved myself a few bucks, I think there's something to occasionally "freezing" the room with aggressive bids, and I believe that whatever I might have cost myself with that bid, I made back with a similar jump bid on J.D. Martinez ($22). Giancarlo Stanton ended up going for $26 and Yordan Alvarez went for $24.
Tyler Glasnow ($27) and Luke Voit ($25) were simply cases of me feeling those players were worth more than $26 and $24, respectively, and hitting the +1. Glasnow has Cy Young stuff and could be primed to his long-awaited breakout.
Austin Meadows ($24) was a similar case. I'm in on the bounce-back and $23 seemed too low. He looks like the Meadows of old this spring.
After getting all that money off the table early, I knew I had to chill for a bit.
I did just that and mostly kept quiet after the first break aside from a few +1s on players Jason Collette threw out for a buck in Randy Dobnak ($2) and Nick Pivetta ($2). That was probably annoying for Jason, but I felt those players were better than $1 players in an AL-only, and in the end those two ended up being two of my favorite acquisitions of the salary cap portion of this draft. Check out what Dobnak is doing this spring (and dream on what he could do with 100-plus frames in front of that improved up-the-middle defense).
Luis Arraez ($3) I like quite a bit as a low-cost batting average play. If I do well in BA with the likes of Guerrero, Martinez, Meadows and Arraez, I should be in a good spot as my pitching turned out strong (on paper anyway).
Chasing speed in the middle portion of AL LABR, I added Elvis Andrus ($11), Manuel Margot ($12) and Robbie Grossman ($6) to my roster. It may not be enough.
I liked Rafael Montero for $10 at the time, but less so now. He's been roughed up a little this spring. If Montero is the Seattle closer, I think I will have 1.5 closers with Pete Fairbanks ($8) alongside him. If Montero loses the job, I could be in trouble, especially since I've already lost Jonathan Hernandez ($4) indefinitely.
Jarred Kelenic ($10) and Wander Franco ($6) were the stashes. I'm fully confident in Kelenic, less so in Franco, and again, I'd take Witt over Franco straight up for 2021 if I could have it back. James Anderson said on the podcast this week that it'd be a toss-up for him between Kelenic and Witt at this point in redraft. I like my fill-in for Franco in Hanser Alberto (R) although Witt could throw a wrench in that plan.
To fill in for Kelenic, I'm looking at Jordan Luplow (R) unless J.D. Martinez gains OF eligibility early, which would free up my UT for any available player.
I keep looking at the team I drafted and trying to determine if I like it.
By position:
C: Martin Maldonado ($1), Kyle Higashioka ($1)
1B: Vladimir Guerrero ($29)
2B: Luis Arraez ($3)
SS: Elvis Andrus ($11)
3B: Maikel Franco ($1)
MI: Wander Franco ($6)
CI: Luke Voit ($25)
OF: Austin Meadows ($24), Manuel Margot ($12), Jarred Kelenic ($10), Robbie Grossman ($6), Brett Gardner ($3)
UT: J.D. Martinez ($22)
P: Lucas Giolito ($35), Tyler Glasnow ($27), Aaron Civale ($13), Rafael Montero ($10), Pete Fairbanks ($8), Tyler Duffey ($5), Jonathan Hernandez ($4), Randy Dobnak ($2), Nick Pivetta ($2).
Reserves: Hanser Alberto, Shane McClanahan, Abraham Toro, Jonah Heim, Matt Foster, Jordan Luplow
Hmm...how about alphabetically, grouped by hitters and pitchers:
Hanser Alberto, 2B, KC (R)
Elvis Andrus, SS, OAK ($11)
Luis Arraez, 2B, MIN ($3)
Wander Franco, SS, TB ($6)
Maikel Franco, 3B, FA ($1)
Brett Gardner, OF, NYY ($3)
Robbie Grossman, OF, DET ($6)
Vladimir Guerrero, 1B, TOR ($29)
Jonah Heim, C, TEX (R)
Kyle Higashioka, C, NYY ($1)
Jarred Kelenic, OF, SEA ($10)
Jordan Luplow, OF, CLE (R)
Martin Maldonado, C, HOU ($1)
Manuel Margot, OF, TB ($12)
J.D. Martinez, UT, BOS ($22)
Austin Meadows, OF, TB ($24)
Abraham Toro, 3B, HOU (R)
Luke Voit, 1B, NYY ($25)
Aaron Civale, SP, CLE ($13)
Randy Dobnak, SP/RP, MIN ($2)
Tyler Duffey, RP, MIN ($5)
Pete Fairbanks, RP, TB ($8)
Matt Foster, RP, CWS (R)
Lucas Giolito, SP, CWS ($35)
Tyler Glasnow, SP, TB ($27)
Jonathan Hernandez, RP, TEX ($4)
Shane McClanahan, P, TB (R)
Rafael Montero, RP, SEA ($10)
Nick Pivetta, SP/RP, BOS ($2)
How about we add some color to brighten things up?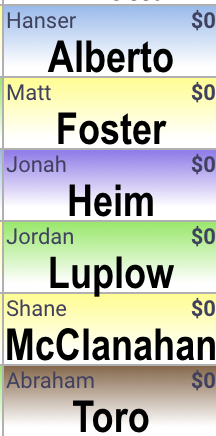 Is it a good team? I do not know.
I don't think I did a great job, but I do think there are ways for this team to be competitive. Most importantly, I need Kelenic and Franco to contribute. If I don't get significant contributions from either of those two, I'm probably toast.
Shane McClanahan is the wild card for this team. Do not sleep on McClanahan.